Trust Mastercut Technologies When You Need High Quality Pre-Cut Shims
If you need the highest quality pre-cut shims, we can deliver to your exact requirements. Our shims come in various sizes from 0.025mm to 12mm and everything in between. If you need custom shims or standard shims, we can provide both. When it comes to industry experience and lightning-fast service and delivery, trust Mastercut Technologies to get the job done right.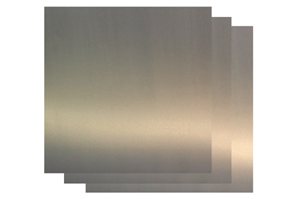 Mastercut's quick ship shim packs are the fastest way to get the shim you need. All stainless steel shim squares come in 610x600mm and are packaged in a Mastercut box ready for delivery. Choose any variety of shims, in any quantities from the list and we will pack them up and ship them off.
Select your grade
Select your thickness(es)
Select your quantities
Add your courier flat pack
Order by 10:30am (AEST) and your shim squares can be despatched same day*
Phone: (07) 5576 1900 to order now
$65 Courier flat pack includes cutting, packing and overnight delivery for up to 6 shims
Shim is charged per piece +GST
What Sets Us Apart from Competitors When You Need Slotted Shims
---
Here's a list of things that set us apart from our competitors every day:
We have 30 years of experience in the industry. When it comes to understanding what our clients require and which shims would suit their needs the best, our team of professionals will always point you in the right direction.
We are the largest importer of shim material in Australia. When you do business with us, you have the most extensive range to choose from, whether you want stock-standard shims or custom shims. We gladly meet cutting and manufacturing requirements. We make all our products locally, so the money you spend with us stays in the country.
We have overnight freight availability for all capital cities and major regions in Australia. We pride ourselves on being able to deliver to you wherever you are, as quickly as possible. Once you've ordered from us, you can rest assured it's already on the way.
We can supply these in full case kits utilising heavy duty Milwaukee cases
Whether you need professionals you can trust, a wide range of products to choose from, or lightning-fast delivery, we have it all. If you've worked with us once, you'll never have to find a different supplier.
Services Related to Stacked Shims That We Can Provide
---
We offer a combination of chemical etching and laser cutting when you need plating and forming. This means that any custom shapes you require we can make perfectly. We also offer a variety of finishes, such as gold, nickel, or tin.
We can manufacture a wide range of parts for any industry. Whether smaller or large components, trust us to get the job done right. We can produce any precision parts from a wide range of materials, including stainless steel, copper, mild steel, beryllium copper, brass, or spring steel. These parts usually include encoder wheels, electronic components such as shielding and antennae, fine mesh and filters, decorative jewellery pieces, clips, lead frames, bridging plates, etc.
When you need any signage or plaques done, we can deliver. Whether of intricate design, small or large, rest assured that whether you need will be manufactured to precision.
Why Trust Mastercut Technologies When You Need Shim Washers
---
When it comes to industry experience, we are veterans. We've been around the block enough to know how to deliver quality products with excellent service. Our business is ISO accredited, which means you can always trust our services, and we continually strive to improve.
Our extensive range of material coverage can cater to any of your material requirements. Our service is reliable and fast and can deliver to our customers overnight. So, the next time you need shims or precision metal manufacturing, give us a call.
*for non-account customers, payment by credit card is required at time of ordering
Not what you were looking for? Try - Custom Shim Packs - Shim in a Box - Quick Ship Shim Packs -  Standard Punched Shim