Shim Cases are available in small, medium and large and include various thicknesses as listed. All Mastercut shim cases are made from high quality 316 grade stainless steel - Material certificates are available - And are all made in Australia. All cases have extra slots for other thicknesses you may require.
More information on the shims inside the box can be found HERE
Size A - 50x50mm with 16mm Slot.
Size B - 75x75mm with 22mm slot
Includes 20 of each thickness 316 grade (260Shims)
0.025, 0.05, 0.08, 0.1, 0.125, 0.2, 0.25, 0.4, 0.5, 0.7, 1, 2, 3mm
Purchase either A OR B sets, or alternatively A+B Combination sets are available with 520 shims in the one convenient box
MEDIUM SHIM BOXES - Size C
---
Size C - 100x100mm with 32mm Slot.
Includes 20 of each thickness 316 grade (260Shims)
0.025, 0.05, 0.08, 0.1, 0.125, 0.2, 0.25, 0.4, .5, 0.7, 1, 2, 3mm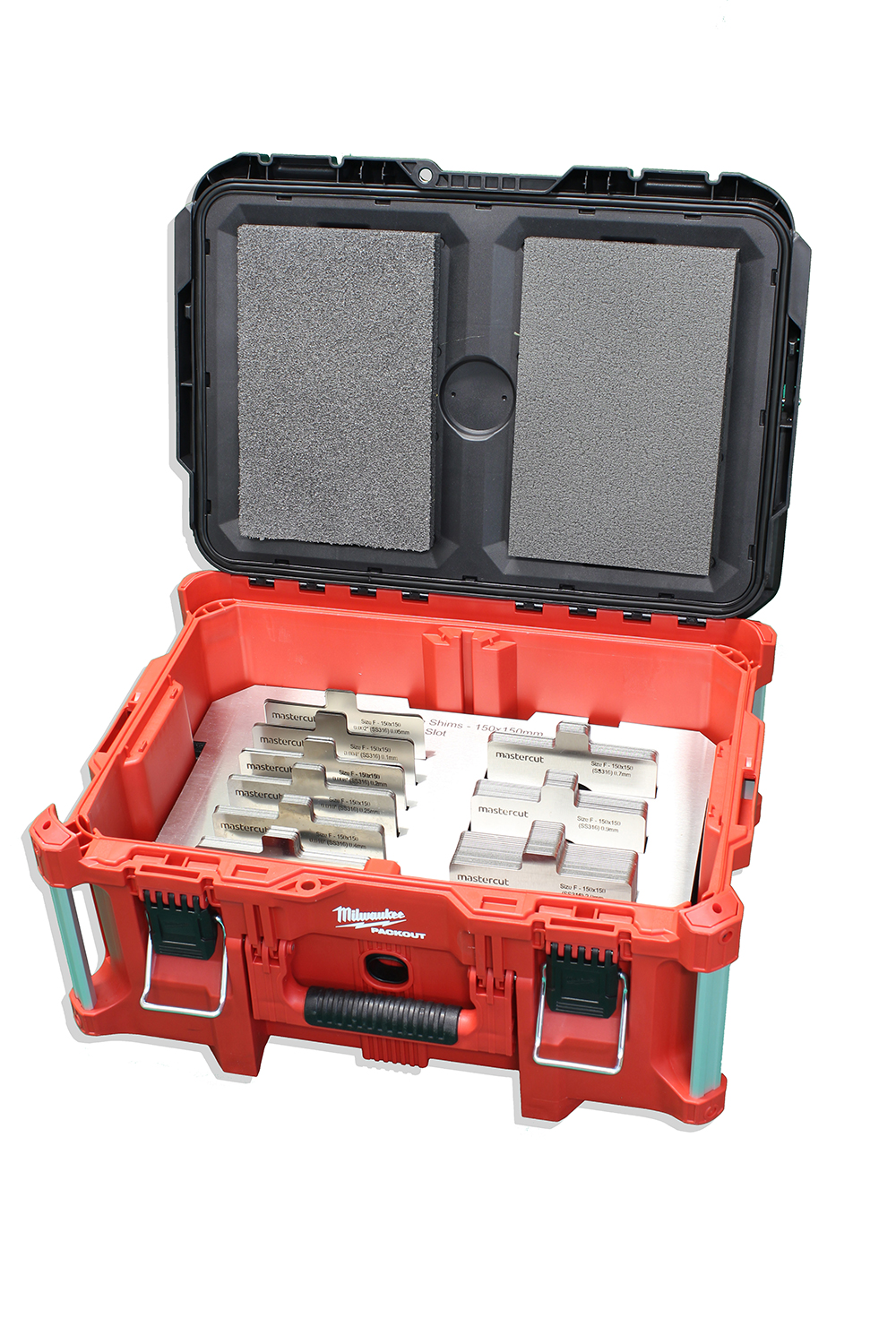 Large Shim box Size D, E and F
---
Size D - 125x125mm with 45mm Slot.
Includes 20 of each thickness 316 grade (260Shims)
0.025, 0.05, 0.08, 0.1, 0.125, 0.2, 0.25, 0.4, 0.5, 0.7, 1, 2, 3mm
Size F - 150x150mm with 55mm Slot.
Includes 20 of each thickness 316 grade (180Shims)
0.05, 0.1, 0.2, 0.25, 0.4, 0.5, 0.7, 1, 2mm
Size E - 200x200mm with 55mm Slot.
Includes 20 of each thickness 316 grade (180Shims)
0.05, 0.1, 0.2, 0.25, 0.4, 0.5, 0.7, 1, 2mm