DEK VectorGuard quick release stencil frames
---
Mastercut are now licensed by DEK Singapore to manufacture stencils to suit the DEK VectorGuard system. This alliance allows us to provide local manufacture of DEK stencils for existing users of Vectorguard, right here in Australia. We can also supply new VectorGuard frames for a complete reusable framing system. 
The major benefits of a framing system are...
Lower stencil price as a conventional frame is not required
Reduced delivery charges as the package is smaller
Multiple stencils can be shipped together with minimal increase in shipping costs
Dramatic reduction in storage requirements in your facility
VectorGuard is a unique patented tension system offering significant advantages over traditional, mesh-mounted systems. Informed at every level by customer demand, and backed up by 24-hour customer support from DEK, the entire VectorGuard range is focused on print process optimisation and first pass yield.
Unlike other tensioning systems, VectorGuard is not air pressure dependent. This means that tensioning is simple and automatic, independent of traditional pneumatic assistance processes.
The VectorGuard system features an extruded aluminium guard, securely attached to each edge of the foil using interlocking moulded plastic corners. By storing foils in their designated protective cassettes, you can reduce storage space by up to 75% compared to conventional stencils.
The enhanced safety and rigidity this means that you can now retrieve, tension and adjust the foil with absolute confidence. Mounting the foil in the VectorGuard frame system takes only a matter of seconds - requiring little training or physical effort. Easy to set up and compatible with virtually any modern platform, VectorGuard eliminates the need for complex alignment procedures and provides accurate and automatic tensioning.
Contact us now for your obligation free quote, or to discuss your design options.
View/download a copy of the DEK VectorGuard Brochure.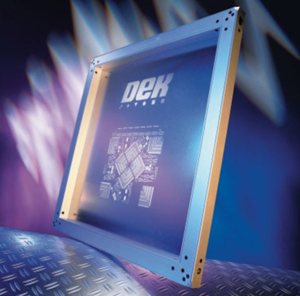 DEK VectorGuard Demonstration Video