Your One-Stop Laser Cutting Shop
---
From precision shim to custom, laser cutting has emerged as a more precise, more affordable, and generally faster alternative to traditional hard tooling.
Mastercut specialise in the precision cutting of thin materials, especially stainless steel. Laser cutting is an effective, relatively low cost method of producing parts and shapes without upfront tooling costs. Because we also cut material using the acid etching (PCM) process we are in a good position to advise on the most appropriate method for your part.
Laser-cutting is accomplished on flat material and in most cases can be formed to suit your requirements. Our precision laser for thin material (0.05mm – 1.5mm stainless) sits on 3 tonnes of granite in a controlled environment to guarantee stability and the highest degree of accuracy. Small parts are often supplied still "tabbed" into the parent sheet to allow for "twisting" out by the customer. This reduces the risk of damage and is usually more convenient.
Because it eliminates the need for hard tooling, laser cutting has a low set up cost and a fast turnaround time (next day delivery can be arranged), meaning that prototypes can be provided quickly and at a lower cost to conventional hard tooling.
-A wide variety of shapes can be cut giving you great freedom in your design concepts
-High tolerance accuracy
-Low set up cost
-Design flexibility
-Fast turnaround time (next day service can be arranged)
The larger of our lasers is the new Farley Laserlab. Featuring a 1500 x 3000m cutting table, this machine can cut Stainless Steel, Titanium, Aluminium, Copper and Brass. Various thicknesses can be cut from 0.05mm up to 10mm. The advantage of this machine over its rivals is its ability to cut on the thinner end of the scale - Cutting 0.05mm material on a machine like this is extremely rare, especially in Australia. The Farley Laserlab also boasts a high level of accuracy, and the ability to cut fine parts including jewellery. All parts are supplied deburred, ready for use.
Bed Size: 1500x3000mm
Material range: 0.05mm - 10mm
Material Type: Stainless Steel, Titanium, Aluminium, Copper and Brass
The Coherent laser system is super versatile in both its range of thicknesses and material types (see below). This machine cuts with a higher level of accuracy than its competitors, and can cut parts faster than the higher precision lasers that we have, making this a great machine for small parts with high quantities.
Bed Size: 1250x1250mm
Material range: Steel - 0.05mm - 3mm
Plastics: 1mm - 20mm
Material Type: Stainless Steel, Aluminium, Acrylic, Wood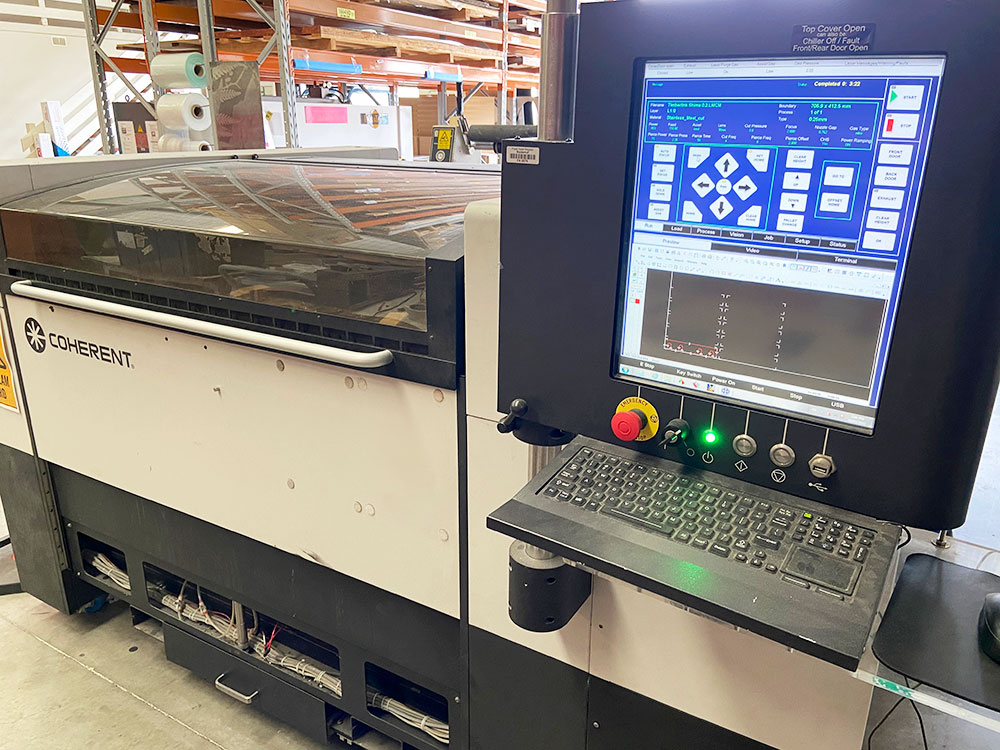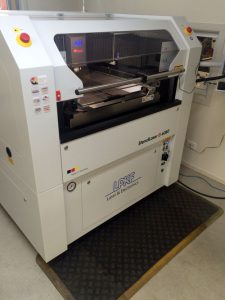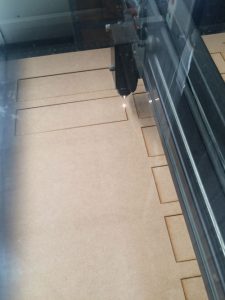 This is the all new addition to the Mastercut family - LPKF G6080 is the only machine of its type in Australia. Specifically designed to cut solder paste stencils, this machine is the latest in technology, providing the end use with cleaner cut to allow better solder release.
This machine also affers the ability to etch away material, effectively offering our customers step stencils that are manufactured all on the same machine.
Other components that require thin material and tight tolerances are also manufactured on this machine.
Bed Size: 800x600mm
Material range: 0.05mm - 0.9mm
Material Type: Stainless Steel
This machine is our older style solder paste stencil laser. As it was succeeded by the G6080, nowadays this is used for shims and precision parts.
The machine is mounted on a bed of granite and is installed in a climate controlled environment, giving this machine a very high level of accuracy.
A great point of this laser is the ability to cut material down to 0.025mm Stainless Steel - A material that Mastercut keep in stock.
Bed Size: 600x600mm
Material range: 0.025mm - 0.9mm
Material Type: Stainless Steel
Our most versatile laser cuts a huge range of materials - You can find listed below. Anything from Wood to Plastics and Rubbers.
This laser machine is great for laser marking metals of all kinds and is commonly used for nameplates, barcode labels and any type of asset tag
Mastercut are extremely proficient in aligning work that has been marked (etched or laser marked) then cut out on the larger Farley Laserlab. This alignment is critical in products such as signage and labels where the artwork can stretch close to the edges of  the label.
Bed Size: 850x400mm
Material range: See Below
Material Type: Will mark but not cut through metals - For all other materials please see below
What sets Mastercut Technologies Apart?
---
Mastercut Technologies is the largest importer of shim material in Australia. Our range of state-of-the-art laser cutting machines enables us to produce custom precision shim for any application, thin metal parts for any industry, high quality custom signage, and solder stencils for the electronics industry, to name a few.
We have 30 years of experience in the industry and have encountered – and solved - every problem imaginable.
We employ cutting edge technology in our metal laser cutting facility to ensure that you get the utmost in quality.
We work with a variety of metal and other materials and offer, among others, metal laser cutting, stainless steel laser cutting, and aluminium laser cutting.
The size of the part is limited only by the size of the cutting bed for the applicable laser. Contact us to discuss your requirements.
What applications is it best for
For most applications, our standard tolerance of +/- 0.5mm would be applied. Small parts precision can be as little as 10 micron, but higher precision affects price as greater care must be taken at every step.
What applications is it best for
---
We specialise in cutting a broad range of materials to precise tolerance and repeatability for these industries:
-Aerospace
-Automotive
-Electronics
-Engineering
-Medical
The Benefits of Metal Laser Cutting
---
Laser cutting is very versatile. There is nearly no limit to the capabilities of laser cutting in producing whatever product or part that you need. Be it shim, thin metal parts, decorative panels, signage, or super high precision products like solder stencils; laser cutting can do it all.
Laser cutting offers several benefits. Likely the most important among these is improved precision. We design our laser cutters specifically to deal with a wide variety of thin materials to produce clean and precise burr-less cuts every time.
Unlike traditional hard tooling methods, laser cutting is very diverse in terms of which materials can be cut.
Why You Should Use Mastercut Technologies
---
We are well respected within the industry, with many years of experience behind us. We employ cutting edge technology to ensure that big or small, straightforward or intricate; your order will be of the highest quality.
We can cut a wide range of materials, including stainless steel, aluminium, brass, copper, and many other metals and materials.
Improved turnaround time. Very often in business, it comes down to how fast you can get your parts. Laser cutting enables us to have your order ready on time, every time.
Located in Burleigh Heads, Queensland, we can arrange for overnight delivery to anywhere in Australia.
Related Services Offered to Stainless Steel Laser Cutting
---
In addition to our standard ranges, we offer a comprehensive range of products and services for a variety of industries.
We offer a wide range of laser cutting products and services to several different industries.
Our range of laser-cut metal signs for homes and businesses is extensive and completely customisable to suit your needs
Other products include facades and public art, Interpretive signage, labels and plaques, restaurant products, decorative panels, promotional products, logos, and wholesale souvenirs.
About Mastercut Technologies
---
Mastercut Technologies has been a stalwart of the industry for the past 30 years, and our ISO accreditation is a testament to the fact that we take quality very seriously.
Our years of experience will ensure that no matter how big or small your project, you get a high-quality product, delivered within budget and on time – every time.
Contact us today for your laser cutting needs.