These bookmarks were designed by local Australian designer Leisa O'Brien and feature native Australian wildlife and flora. 100% Australian made, the bookmarks feature a stainless steel variety and a gold plated variety, with the ability to be customised with a business name or location (eg Gold Coast, Sydney, Coffs Harbour).
Packaging includes a quality flat plastic sleeve to maximise on space and minimise on shipping costs and are ready to hang in stores. A sturdy cardboard backing boasts information on the flora or fauna featured on the bookmark.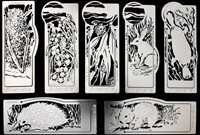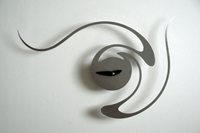 Fully customisable, slimline, stainless steel clocks for the wholesale souvenir market. The shape and design can be customised to suit your market (eg, Sydney Harbour Bridge, surf board) and any text or logo can be added.
Mastercut can work with you to create your fully personalised souvenir products. No matter your location or design, Mastercut will help find a solution for you.
You can customise shape, design, text, logos and imagery to whatever product you like. Bookmarks, clocks, business card holders, bottle openers, lamp shades and more!
Contact us now for your obligation free quote, or to discuss your customised design options.