Mastercut Technologies... House Signs
---
We manufacture a very wide variety of house signs to suit all types of properties. Below are some examples of projects we have completed, but we are open to hearing any idea you might have. In your planning stage, here are a few tips to think about
Measure the area you wish to place your sign and decide on a final sign dimension
Think about colours and materials you wish to use - below are some examples to assist
Choose a font - We can certainly assist here, but a good place to start is to head to dafont and browse some fonts that you might think would suit your premises. Write down your favourites and we can give you these options in the proofing stage
Feel free to call us and discuss your needs. We design and construct, so we can provide you with a proof prior to manufacture
Simple etch and paint fill stainless steel sign - Chemical etch and 2 pack paint fill - Long lasting and modern looking - Can be made to any size/style/font/colour
This particular sign info:
Size - 300x200mm
Thickness - 1.5mm
Material - 316 grade Stainless Steel - Brushed
Approx Cost - $200.00 + gst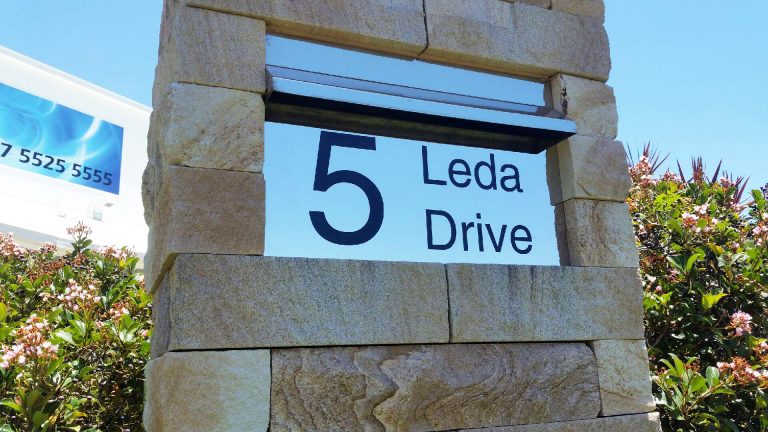 Mastercut can manufacture and design your house signs and letterbox panels. This sign has been etched and paint filled on 316 grade mirror finish Stainless Steel
This particular sign info:
Size - 350x220mm
Thickness - 1.5mm
Material - 316 grade Stainless Steel - Mirror
Approx Cost - $235.00 + gst
These signs can be manufactured from Stainless Steel (Pictured), Brass, Copper or Aluminium. They come complete with mounting brackets, LED lights, Acrylic infill numbers and letters, fastenings and mounting instructions. All you need to do is supply the power. They can be set on a timer to come on at night time only.
High quality components used, these signs are a great feature on any house.
This particular sign info:
Size - 300x200mm
Thickness - 1.5mm
Material - 316 grade Stainless Steel - Brushed
Approx Cost - $450.00 + gst
Letterbox panels made with a folded flap to protect your mail from the elements. Mainly manufactured in Stainless Steel, however Brass, Copper, Aluminium and Corten (rusty steel) are also options
We can manufacture virtually any design you like. This particular sign was made from copper where the letters and numbers remained as high and the background was etched painted white. These were a very classy design for a high end apartment building.