Mastercut Technologies EMI/RFI board level shielding parts assure the performance and maintainability of communications equipment, medical, radar applications and wave guides, computers, control systems, telecommunications, consumer and industrial electronics. EMI and ESD shields provide isolation of board-level components, and reduce the disturbance that affects an electrical circuit due to either electromagnetic induction or a radio frequency disturbance.
Board level shielding is typically etched from 0.2 - 0.5mm Brass, Copper or Cold Rolled Steel. Beryllium Copper is commonly used if spring qualities are desired. The standard finish is tin plated.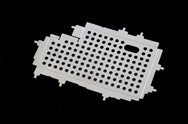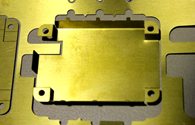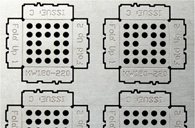 The Photo Chemical Machining process allows the fabrication of shields with complex shapes and features that are impossible to duplicate by other methods without expensive tooling.
Non-reducing charges
Through holes and slots
Forming tools not required
All parts are burr and stress free
No limitation on shape, size or design
Any style of mounting pins in any configuration
Any aperture configuration can be accommodated
Bend channels enable shielding enclosures to be formed by hand
Hand-foldable, etched bend channels are one of the unique features that Mastercut Technologies can incorporate into your RFI/EMI shielding enclosure. In the common metal thickness, our etched bend channels allow anyone to bend the sidewalls of a shield from a 2D blank to a 3D finished shield easily, quickly and precisely.
Use bend channels to create acute angles between 0° and 90°
Save several days in lead and delivery time without traditional tooling
Since there is no need for traditional tooling, you can typically save hundreds of dollars
Because etched bend channels exhibit a zero inside radii when formed, you can save space on your board by reducing the clearance necessary between the shield and the components within it
Economical Pricing
Shortened Lead Times
Tooling is very Inexpensive
Shields are generally supplied in sheet form with parts held in by "micro-tabs". This allows for easier handling and storage while protecting the parts for as long as possible.
Please view/download the '
Design Guidelines
' for more information on how to get a quote and order your PCB shielding.
Contact us
 now for your obligation free quote, or to discuss your design options.