Masterful Custom Metal Signs at Mastercut Technologies
---
Metal signs have come a long way from being used solely for council signs and are now all the rage in more creative settings such as laser cut house signs and innovative promotional signs. At Mastercut Technologies, we have the science of sign making down to an art form, offering the highest quality custom metal signs in a large variety of materials.
We offer the best in signage manufacturing. Whether your business needs an intricate new sign on the door or outside on the walls, or you merely want signage to put on your table or around the office, we offer excellent quality precision manufacturing of signs, whether small, large, intricate, or simple.
Mastercut signage is predominately manufactured with deep acid etched stainless steel, generally colour filled. Various thicknesses are available and all signs are cut to virtually any shape using our state of the art Fibre Laser.
Acid etched signs are one of the hardest wearing, longest lasting signs on the market and are perfect for high traffic areas in public places. The signs can also be rejuventated to their original glory with minimum fuss and cost involved - And they look great...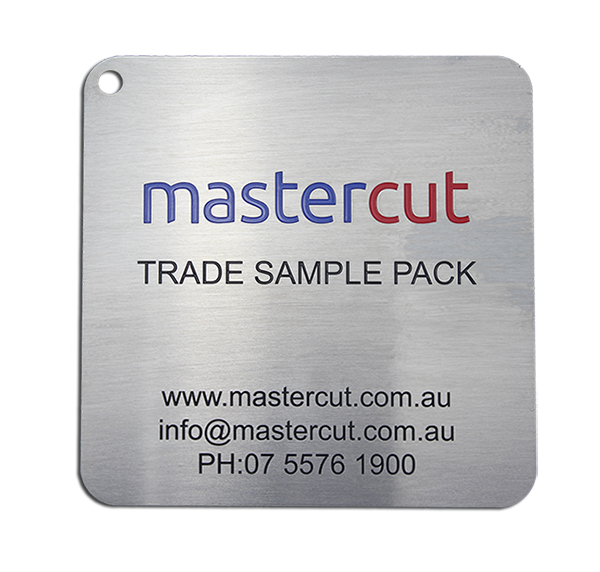 Our most popular method of manufacturing signs. These are one of the longest lasting signage types on the market. They can be made from virtually any thickness Stainless Steel, Copper or Brass.
In The Acid Etching process, a mask or resist is used to create the image, then the plate is run through an etcher until the desired depth is achieved - Generally 0.3mm.
Once etched the low points are then filled with a very strong 2 pack automotive paint in virtually any colour.
Signs can come with threaded studs welded to the rear for easy mounting, or we can design a mounting option for you.
Acid etch and paint fill - High Detail
---
This method shows how an image can be re produced with the etching process. Virtually any image can be used and we etch it deep into the material surface and fill with 2 pack paint.
This type of signage is used widely in the interpretive arena, and can be reproduced in Stainless Steel, Brass and Copper.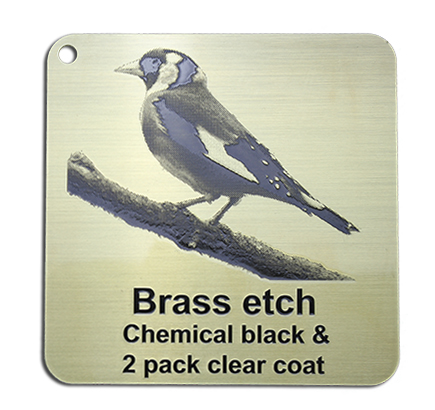 Brass etch and chemical blacken
---
Brass etching works the same way as the Stainless Steel method, however in this instance, the etch is filled using a chemical blackening process. This is a hard wearing product that is great for text heavy signs or labels.
A 2 pack clear coat is generally applied to the entire sign to keep the brass looking new for years to come.
Anodised aluminium is one of the hardest wearing processes available for full colour signs.
Inks are soaked deep into the aluminium pores, then the pores are closed and sealed to keep the colours in. They are highly vandal resistant and due to the image being embedded into the surface, the signs have a vibrant metallic look that only anodising can achieve.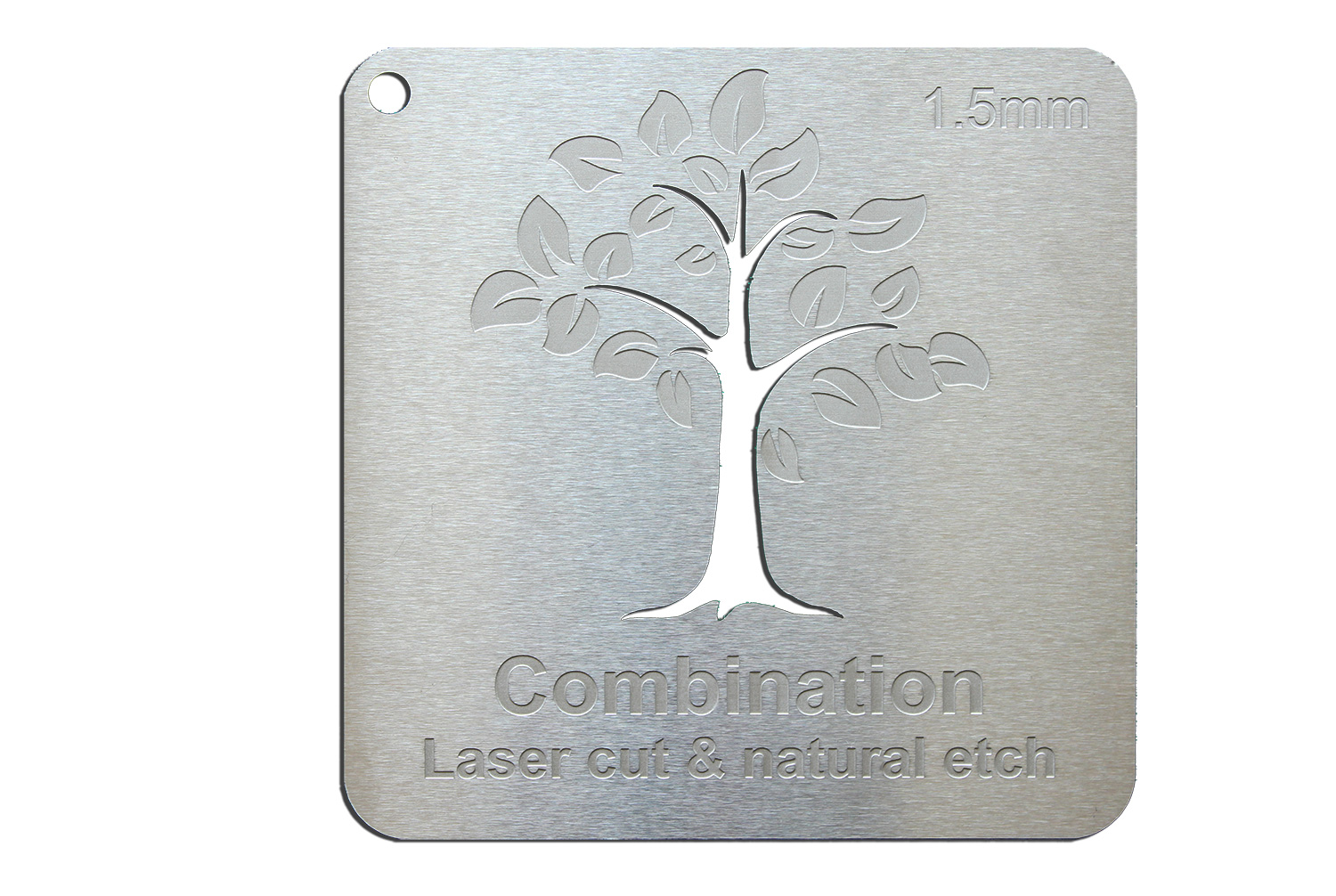 This is showing what etched stainless steel looks like with no paint infill. This really is a long lasting way to manufacture signs, as there is nothing that can wear on this, so the expected life of these is virtually unlimited.
This particular samples shows how we can etch parts and laser cut parts on the same panel to create a unique style of signage.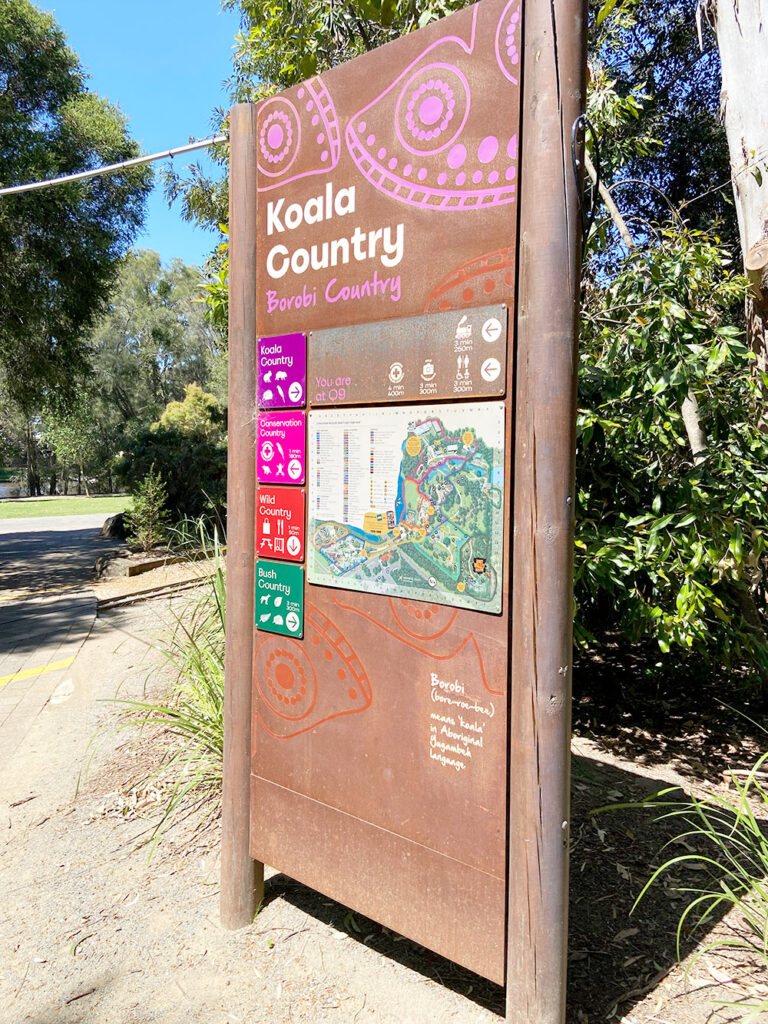 Etch and Paint fill Corten
---
Corten steel is s great way to manufacture long lasting signs. Great in high vandal areas also, this process can withstand the harshest of elements and looks great. Etching with paint fill is relatively new to the market and exclusive to Mastercut
Corten steel is a metal that is specifically designed to give surface rust, but never rust through. This steel has been ever gaining in popularity over the past 10 years and is now specified in many projects.
This sample has the leaves and letters cut through - and the trunk in stainless steel to give a nice contrast in colours.
Mastercut have been at the forefront of design and manufacturing using corten. you can view our corten wall that we made in Sydney Click here
We have also been acid etching and paint filling Corten for a few years with great results - We will post more about that soon....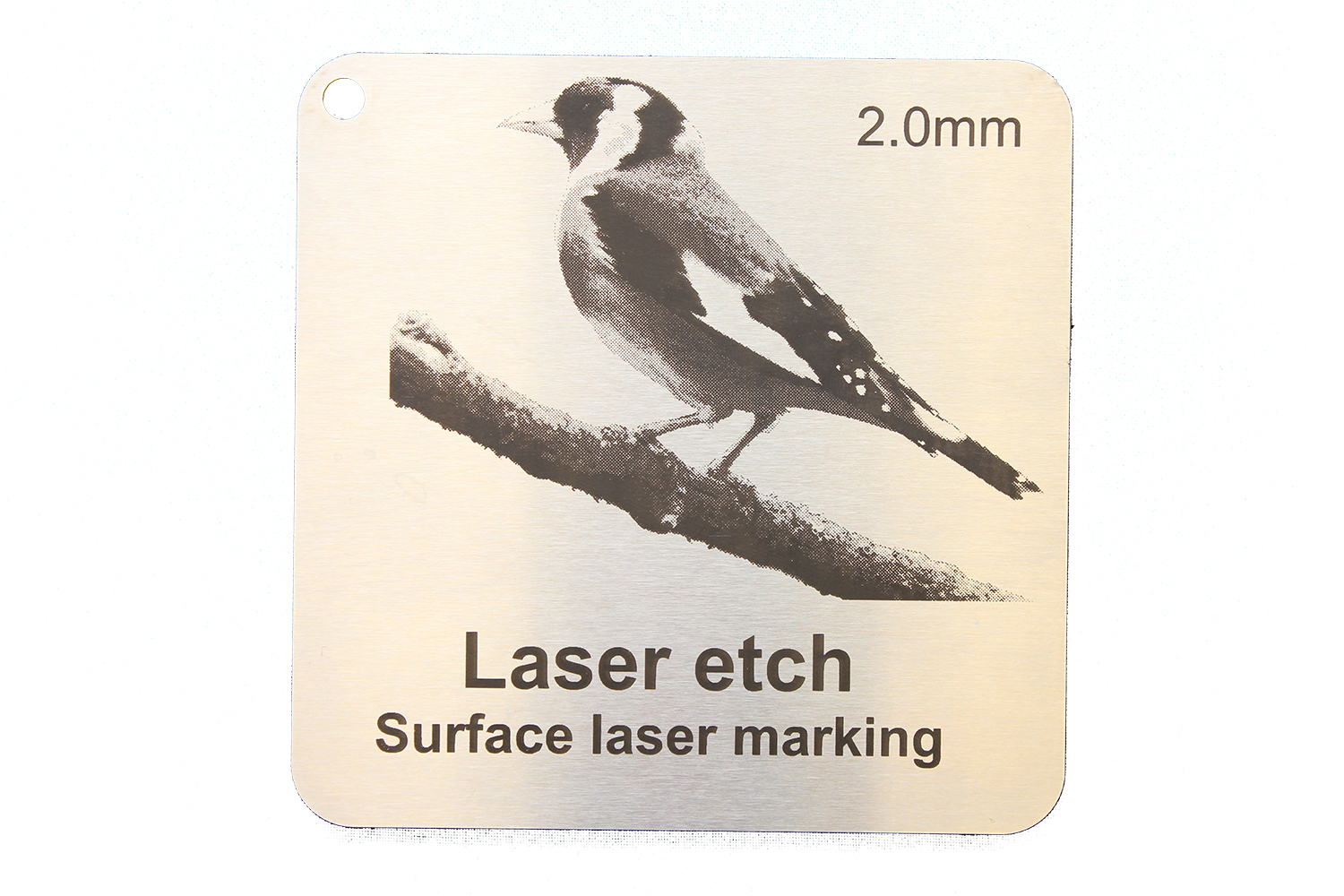 Laser Marking is often referred to as Laser Etching. Lasers will not "Etch" into the material at all, instead, they mark the surface of the substrate by burning the image in. This process is best used on labels and plaques that are used indoors. Laser marking is not recommended for exterior applications as it is affected by UV light and will fade away in a relatively short amount of time. And yes, this is the case for all laser marking. If you are after a permanent etched result, then acid etching is the only process that will achieve this
This method is recommended for labels and plaques where a non permanent solution is required. It is a relatively cost effective method to achieve a result. Whilst we do manufacture this, it is not recommended for signs.
Interpretive Stainless Steel Signs
---
Interpretive signs for indoor and outdoor public spaces. Hard wearing, durable signage with vandal resistance made from stainless steel materials, built tough to last in harsh conditions.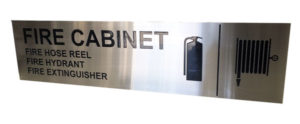 Statutory Stainless Steel Signs
---
Stainless Steel Etched Statutory Signs are long lasting, hard wearing signs that are perfect for public places. Mastercut can design the sign for you, or you are welcome to bring your own designs.
Mastercut Etched Door Signs are a great way of labeling doors clearly, with great looking Stainless Steel.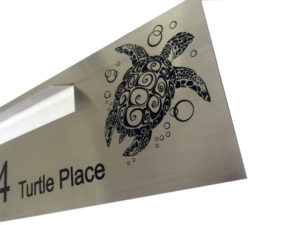 Front house signs, laser cut numerals and something more fancy to have the best letterbox in the street - Mastercut makes it all possible
Architectural signs and plaques can be used for both private and commercial premises, including hotel directories, elevator signage, residential numbering and more.
The Benefits of Custom Metal Signs in Australia
---
These products have gained much popularity of late, and there is massive demand. Arguably one of the most effective and tasteful ways to attract attention to your storefront or office, and one of the most attractive additions to the outside appearance of your home, custom signage will do a lot more than just look pretty.
It is long-lasting and durable, able to stand the test of time against both the elements and vandalism.
There is a huge variety of options for your selection. From laser cut signs to paint-filled etched signs, or a combination of the two.
Custom metal signs can be produced in several different materials, including stainless steel, copper, brass and aluminium, depending entirely on your taste.
What to Consider When Opting for a Laser Cut Custom Metal Sign
---
Our manufacturing plant, featuring state-of-the-art laser cutting machines, enables us to produce custom signs of outstanding quality and creative innovation for any application under the sun.
Whether you have a clear vision of the sign you want for your home or business or not, our in-house design team has you covered. There is virtually no limit to what you can do.
From simple, straightforward signs to intricate and detailed laser-cut or etched signs, we have the solution for you.
Our range of laser-cut metal signs is extensive and entirely customisable to your needs.
Related Products to Custom Laser Cut Stainless-Steel
---
In addition to our range of stainless-steel and metal signs, we also offer a variety of other signage options.
Anodised, laser cut or etched signs are long-lasting and durable, resistant to both vandalism and the elements. The anodised layer also acts as a better adhesive surface for glue and paint, lending itself perfectly to detailed full-colour signs.
Etched signs  have proven to be one of the most popular forms of metal signage, and we offer several options for your selection. Our etching process allows for many possibilities, from simple, straightforward signs, to intricate and detailed works of signage art.
You can choose from a wide variety of materials, including stainless steel, copper, brass, or aluminium.
About Mastercut Technologies
---
We have been in business for 30 years and have built up a wealth of experience in producing high quality laser cut metal signs. We employ cutting edge technology to ensure that your sign goes far beyond being mere practical informational aide, but rather adds value and appeal to your home or business.
Contact us today for a unique custom metal sign for your home or business.